Friday, November 20, 2015
Tuesday, November 17, 2015
Friday, September 26, 2014
Hello fellow wrestling fans and welcome to Episode 12 of the Scavenger Hunt with me the guy known by some as
HobosGhost on Twitter!
For those who are newbies to this, I do a weekly episode containing five clips I've found on the magical/terrifying Internet for you to check out!
Let's get going!
Labels: AJ Lee, Chris Adams, Chris Von Erich, Curt Hennig, FCW, Luke Gallows, NJPW, Outback Jack, Percy Pringle, Rick Steiner, ROH, Rosa Mendes, Scavenger Hunt, Silas Young, Steve Austin, USWA, WWE, WWF
Friday, August 29, 2014
Today marks the 20th anniversary of SummerSlam 1994, the annual Summer Pay Per View held by WWE. Jon Sullivan, editor of
Jon vs. Pro Wrestling
, takes us back twenty years to that night in Chicago where we saw two brothers battle it out in a steel cage for the then WWF Title and who can forget the infamous Undertaker vs. Undertaker match?
Thursday, August 28, 2014
Hello! Once again...it's time...for everyone to come aboard the Scavenger Hunt train with me, the person known as HobosGhost on Twitter!  I wad through the murky waters of the internet to bring five more random clips from the magical world of wrestling! This is number eight in the series so welcome to all, new and regular!
Are you ready?  Then let's begin!
Labels: Bobby Heenan, D-Generation X, Gorilla Monsoon, HHH, Jeff Hardy, Matt Hardy, Road Dogg, Ron Simmons, Scavenger Hunt, Sherri Martel, WCW, WWC, WWF, Yokozuna
Saturday, August 23, 2014
Hello everyone and welcome to Monday Night Raw...oh no wait, that's wrong...Welcome to number 7 of my Scavenger Hunt, where I search through the murky world of the Internet to find random wrestling clips for your entertainment!
Labels: Bryan Danielson, Daniel Bryan, Doink, Earthquake, Kamala, Koji Kitao, Mid-South, ROH, Scavenger Hunt, TCW, Tommy Dreamer, World Wrestling Entertainment, WWE, WWF
Friday, August 15, 2014
Hello wrestling fans,its that time once again for the Scavenger Hunt,where i bring to you random stuff from the world of wrestling for your viewing pleasure! 5 clips, lets get started!
Labels: FCW, Kane, Miss Elizabeth, Scavenger Hunt, Seth Rollins, Sting, The Undertaker, Tyler Black, WCW, WWE, WWF
Saturday, August 9, 2014
Hello everyone! Its time once again for the Scavenger Hunt with me, HobosGhost, bringing more weird and wonderful clips for your viewing pleasure! Once again 5 clips. Ready?
Thursday, July 17, 2014
Continuing with his retrospect of Saturday Night's Main Event in 1986, Erik Vasquez takes a look at the fifth episode of SNME which took place on March 1 from Phoenix, Arizona.
Friday, July 11, 2014
Welcome to the first of a weekly edition exclusively for The Wrestling Chronicle, HoboGhost's Scavenger Hunt! Every week Simon "HobosGhost" Knowles searches high and low on the Internet for random wrestling videos, perhaps the debut of someone who went on to become a legend, or a match between two up and comers that would be considered a dream match by today's standards. If you consider yourself a wrestling geek who loves to immerse him or her self in the history of pro-wrestling then you'll enjoy HobosGhost's Scavenger Hunt.
Thursday, July 10, 2014
Welcome to the first of five parts where Erik Vasquez looks back at Saturday Night's Main Event during 1986, the year he was born.
Wednesday, April 9, 2014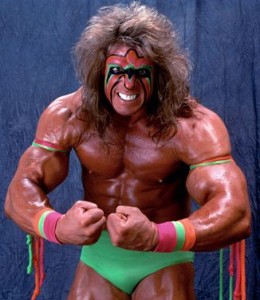 As many of you know the professional wrestling world is mourning the loss of the legendary Ultimate Warrior. Shock and sadness are on a level playing field as colleagues and fans wrap their minds around the fact that a man they watched on their TV just days ago is no longer with us. It is truly a day of sadness and even solace as we realize that time is precious and right before he left physically, Warrior was able to make peace with many, relive the days of his glory just one last time, and say goodbye.