Roman Reigns and Braun Strowman collide once again this time in a Last Man Standing Match!
We kick off Raw with Miz TV where The Miz calls out Jason Jordan. The Raw GM, and Jason Jordan's father, Kurt Angle comes out to inform The Miz that his son has a match against fellow Miztourage member Curtis Axel so he won't be appearing on Miz TV tonight. Don't fret Miz, Kurt got you a different guest...the Universal Champion Brock Lesnar! While hiding behind Axel and Bo Dallas, The Miz trashes Brock and says he has no chance of leaving SummerSlam Universal Champion. Brock's advocate Paul Heyman would like to do a little role playing and decides The Miztourage will individually play the parts of Lesnar's Summerslam opponents. From there Brock absolutely destroys The Miztourage capping the beating off with an F-5 for each member.
Seth Rollins vs. Sheamus
Really good match to start off the night. Seth comes out of the gate hot taking it to Sheamus who finally gets the upper hand heading into to break. When we come back from break Sheamus is on the up. The two battle back and forth with great sequences ending with Rollins hitting a top rope hurracanrana then a superkick. Rollins is looking for another top rope maneuver when he is distracted by Cesaro. Rollins loses focus thanks to the distraction and gets rolled up by Sheamus who gets the win.
A pissed off Rollins goes after Sheamus and Cesaro but the numbers catch up to Rollins and he's beat down by the Tag Team Champions.
Backstage Rollins wonders what he has to do to get on Ambrose's good side. All Ambrose knows is he has to go up against Cesaro and he has to go at it alone.
Jason Jordan vs. Canadian Jobber Named Pierre
As stated above, originally Jason Jordan was set to take on Curtis Axel but thanks to Brock Lesnar F-5ing Axel into oblivion that's not going to happen. So Angle finds some random French Canadian guy in the back to replace Axel.
The match was pretty much one sided with Jordan taking it to the guy pretty lightly. The Jobber actually gets some shots in which wakes Jordan up who hits the guy with a flurry of offense ending with Suplex Neckbreaker.
Jason Jordan got no reaction whatsoever and beating a French Canadian in Canada didn't win him any favors.
Bayley suffered a separated shoulder last week so she is unable to compete for the Raw Women's Championship at SummerSlam. We will have two Triple Threat matches tonight. The winners of their respective matches will face off next week to determine the new Number One Contender to face Alexa Bliss at SummerSlam for the Raw Women's Championship.
Sasha Banks vs. Alicia Fox vs. Emma
Braun Strowman is a really scary man. A scary man that really enjoys hurting Roman Reigns.
Enzo Amore vs. Anderson and Gallows
Why is this happening? I don't know. It was basically another "beat the piss out of Enzo" segment but in the end it was worth it because Big Cass stuck his nose were it didn't belong and got knocked out by Big Show. He caught him square on the jaw. Here's a replay of me looking at the TV: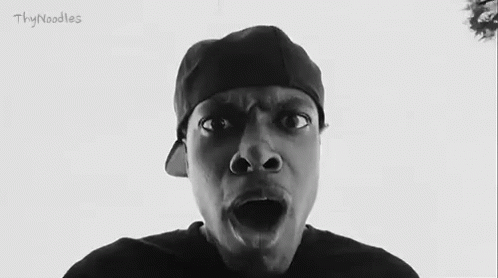 Finn Balor calls out Bray Wyatt and spooky stuff ensues. Bray appears quickly in the ring but Finn knew what was coming and sat cocky on the top rope. Bray goes to attack but Finn avoids every shot when the lights go out. When they come back on Finn is standing guard alone in the middle of the ring. Bray appears on the big screen laughing and speaking in riddles again.
Cesaro vs. Dean Ambrose
Man this took a really long time to get good but in fairness both men ended strong. Cesaro had the crowd on his side by using the Sharpshooter (Canada!) but in the end Ambrose gets the roll up win. Again it was slow but ended strong.
Sheamus and Cesaro beat down Dean until Seth Rollins makes the save. Once he runs off the Raw Tag Team Champions it's just he and Ambrose and the crowd going wild. Once Dean gets to his feet he extends his fist symbolic of the old Shield days. The crowd is going bonkers. This time Seth leaves Dean hanging. Wow.
Ariya Daivari vs. Akira Tozawa
Ariya does a good job of targeting the once fragile shoulder of Tozawa but thanks to an investment into a hyperbaric chamber, he's close to 100%. Tozawa hits Daivari with a topé then that beautiful senton bomb for the win.
Mickie James vs. Dana Brooke vs. Nia Jax
This was a lot better than the first Triple Threat match of the night and dare I say Dana Brooke had a good showing tonight. She didn't win though. She got squashed thanks to a leg drop from Nia Jax.
Next week Sasha Banks and Nia Jax square off to see who faces Alexa Bliss for the Raw Women's Championship at SummerSlam. Hopefully this is as good as their last encounter in the Gauntlet Match a few weeks ago.
Goldust talked about the golden age being back or something.
At SummerSlam Big Show and Big Cass will do battle with Enzo Amore suspended high above the ring in a shark cage.
Braun Strowman vs. Roman Reigns - Last Man Standing
As I stated on Twitter, this match was no different from the last six or so encounters we've seen from Roman and Strowman. That isn't saying the match was bad, it was just exactly the same match we've seen back to back. Roman tries coming in quick on Braun who obliterates him for much of the beginning, Roman makes a comeback, the two go back and forth, then something crazy happens. To be fair there was an awesome spot where Braun hurls an office chair from the timekeeper's area catching Roman square in the face. Incredible. It is actually mind blowing to think Braun had no experience in wrestling before WWE but with every outing he gets better and better. The ending of the match was a little dicey for me. Roman does a mad dash from the beginning of the stage ramps and spears the holy hell out of Braun. Both men are down till about a seven count when Roman uses the barricade to get to his feet. Out of nowhere from behind the barricade Samoa Joe appears locking Roman in the Coquina Clutch. Here is my issue, if the match is technically a No Disqualification, as Joe has Roman in the Clutch shouldn't the referee still be counting Strowman down? Joe puts Roman to sleep and at the last second Strowman comes to and gets to his feet winning the match. Perplexing but the crowd goes wild for Braun to close out the show.
Overall I thought this was a decent Raw. The opening match was great, Brock destroying people was great, The Dean/Seth stuff is great so I can't complain. What did you think? Comment below or reach out us on Social Media:
The Wrestling Chronicle
Facebook
/
Twitter
/
Tumblr
/
Instagram
/
Google+