Capt. Lou Albano, TheGrand Wizard of Wrestling, and "Classy" Freddie Blassie were three legendary heel (bad guy) managers known as the "Triumvirate of Terror". Legendary on their own accomplishments they would band together when ever they felt a babyface (good guy wrestler) needed to be dealt with.
One of the most important roles in wrestling that is often overlooked is the role of a manager. By definition a manager's role in wrestling is a secondary character paired with a wrestler for a variety of reasons. Often times a manager is paired with a wrestler to give the wrestler a bit of an edge or tweak to his character which in turn gets him noticed more than others in the locker room. A manager's antics or presentation could make he or she memorable to the fans which ultimately helps the wrestler do the same. Meet the "Triumvirate of Terror". These three men not only revolutionized the idea of wrestling managers but managers who decided to push the envelope to help their guys to the top. Love them or hate them wrestling fans will never forget them.
Captain Lou Albano
Louis Vincent Albano will forever be known by fans as Captain Lou Albano. Known for his facial hair and weird facial accessories Albano's career spans 42 years! Albano's career began as a wrestler in 1953 and lasted up until 1969. Immediately afterward Albano stepped into a managerial role and did so till he retired in 1995. In that 26 year span as a manager Albano lead 15 different tag teams and 4 different singles competitors to championship gold. Albano is no stranger to non-wrestling fans either. He has starred in many films such as Wise Guys alongside Danny Devitto and Body Slam which featured Rowdy Roddy Piper and a cameo by Ric Flair. Outside of wrestling he is most known for playing Cyndi Lauper's father in the Girls Just Want to Have Fun music video. Albano's involvement in the video proved vital in the 80's boom of pro wrestling in pop culture. WWE and MTV constructed a relationship which saw the creation of The Brawl to End It All event which was broadcasted on MTV. Albano stood in the corner of the almost 28 year reigning and defending Women's Champion The Fabulous Moolah while Lauper was in the corner of Wendy Richter. The match ended with Richter defeating Moolah and the event went on to be one of the most watched programs in MTV history. Without Albano and Lauper crossing professions who knows how popular the WWE would be today.

Here is the infamous "Girls Just Want to Have Fun" music video featuring Captain Lou Albano
The Grand Wizard of Wrestling
@WrestlingChron The Grand Wizard of Wrestling. Loved that dude's cadence plus his turban would match my wrestling gear and that rocks.
— Jonathan Sullivan (@JonSullivan_) June 16, 2014
Meet the man who in his time was known as the most hated managers in the wrestling business. Considered a pioneer, he was the first manager to get involved in matches to help his guy gain the upper hand. The Grand Wizard was also for his character being so anti-America that he once started a riot. Despite being a conniving pain to wrestling fans, The Grand Wizard aligned himself with many and led whoever he was with to championship gold. Check out some of the teams and singles competitors he's helped:
Mr. Fuji & Prof. Toru Tanaka
Stan Stasiak
Superstar Billy Graham
Big Cat Ernie Ladd
Ox Baker
Sgt. Slaughter
Cowboy Bob Orton
Killer Kowalski
A list of bonafide legends under his wing.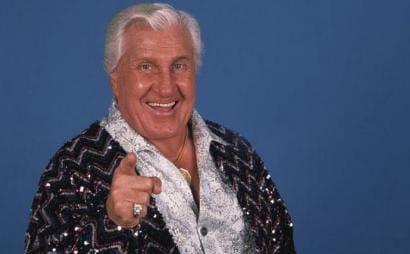 "Classy" Freddie Blassie
Ah, the last of the evil trio but certainly not least there is "Classy" Freddie Blassie. Looking at the body of his work both as a wrestler and a manager only one word comes to mind, impressive. Take a look at Blassie's career as a wrestler:
Championship Wrestling From Florida
NWA Southern Heavyweight Champion
NWA World Tag Team Champion
Mid South Sports (Georgia)
NWA Georgia Heavyweight Champion
NWA Southern Heavyweight Champion (17 times)
NWA World Tag Team Champion (2 times)
NWA International Tag Team Champion (3 times)
National Wrestling Alliance
NWA Junior Heavyweight Champion
Hall of Fame (2011)
NAWA/WWA (Los Angeles)/ NWA Hollywood Wrestling
NAWA Heavyweight Champion
NWA Americas Heavyweight Champion (4 times)
NWA Americas Tag Team Champion
WWA Americas Heavyweight Champion
WWA International Television Tag Team Champion (3 times)
WWA World Heavyweight Champion (4 times)
WWA World Tag Team Champion (2 times)
NWA Southern Junior Heavyweight Champion
NWA North American Heavyweight Champion (Hawaii)
Whew, what a list! During his time as the NWA Georgia Southern Champion Blassie went babyface to full fledge heel. Known for biting his opponents, he would file his teeth down. In that time the monicker "The Vampire". Blassie also competed in Japan and had a memorable feud with Japanese legend Rikidōzan. The two had a rematch in Los Angeles for the WWA World Heavyweight Championship, a match that would be broadcasted live in Japan. The match would be remembered thanks to Blassie leaving Rikidōzan a bloody mess. Most Japanese fans were not accustomed to seeing their beloved countryman brutalized this way. Apparently people were so upset at the sight of Rikidōzan covered in blood a few spectators had heart attacks and one, according to the urban legend, did die.
Despite having such a tremendous career inside the squared circle a vital part of Blassie's career was guiding up and coming talent and grooming them into bonafide superstars. Guys like:
Nikolai Volkoff
Mr. Fuji
George "The Animal" Steele
Baron von Raschke
Stan Hansen
Peter Maivia
Iron Shiek
Jesse "The Body" Ventura
King Kong Bundy
and who can forget Hulk Hogan
Those were just a few names to the list. Much like the Paul Heyman Guys of today, if you were under the tutelage of Blassie, you were under the wing of the best manager in wrestling. Blassie had such a great relationship that he remained on the WWF/WWE roster until he passed in 2003.
Check out this clip from October 1989 on the set of Prime Time Wrestling. The audio and video are out of sync but the exchange between Bobby "The Brain" Heenan and Freddie Blassie is down right hysterical. If you're into drinking games, take a shot every time Blassie calls Heenan a "pencil neck geek", Blassie's famous line:
Without these three men revolutionizing the role of "bad guy" managers who knows if guys like Paul Heyman or Bobby "The Brain" Heenan would have been so successful at what they do. Often times the manager is just looked at as an added piece to a performer. In the case of "The Triumvirate of Terror" they each were an added bonus.