Hello folks, seems as if the majority of you enjoyed last week's first ever Random Post Saturday. Although today is Sunday I'll give it another go 'round this week. So if you've got some time to kill sit back and enjoy my wrestling findings and such.
If you haven't already please go check out the YouTube show "Zane and Caleb Put Over the World". It's a funny show from pro-wrestlers Zane Riley and former Piledriver Podcast guest Caleb Konley. This most recent episode features former TNA and WWE star DOC aka Festus and 5 Dollar Wrestling's biggest fan, TNA's Gunner. Check it out and oh, F*CK GUNNER.
2013 is almost over, how crazy is that? While this part of the year is always my favorite since I can eat like a cow and get free stuff, in the wrestling world November only means Survivor Series. While Survivor Series has deviated from the format that has made it famous in the first place it's still holds a special place. Who can forget the Rock debuting in Madison Square Garden with that ridiculous outfit and equally funny hairstyle he had going on?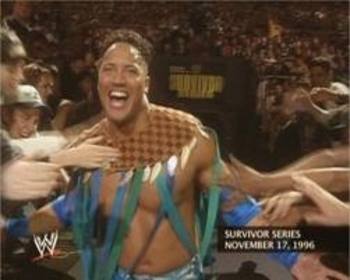 One of my favorite moments pertaining to Survivor Series was before Survivor Series '93 when it was revealed The Undertaker would be joining the All-American Team of Lex Luger and the Steiner Brothers to take on the Foreign Fanatics. Classic nostalgic moment right here:
You know who I can't wait to see become a top main event heel? Luke Harper. The guy has all the makings to be one, a good one. Everything from his creepy look, how he plays the deranged backwoods psycho, to the fact that for a man of his size and build can have excellent matches with just about anyone. And if you don't think of Bruiser Brody when you see Harper then you're doing this wrestling thing wrong.
Look at that face....
This past week marked the anniversary of Eddie Guerrero's unfortunate passing. In all my time as a wrestling fan, no death affected me greater. Guerrero was everything you'd want in a wrestler. Great look, natural charisma, hysterically funny, and oh yeah one of the best wrestlers of his time. He was a true champion of the people. I miss watching Eddie Guerrero on my TV. And if you're just getting into professional wrestling I suggest you watching anything you can involving Eddie. Here's a few of my favorite Eddie Guerrero matches:
Sorry for the watermark but this was the only video of this match that would play back on the site.
Well that's all my brain has working right now. Please share your thoughts below, leave a comment on our Facebook, or send a tweet on Twitter. Also check out The Wrestling Chronicle Tumblr Page. HQ pics, gifs, and videos ranging from the old territory days of wrestling to everyone's current favorites from WWE, TNA, Japan, and the Independents. Till next time...